To be administered for 90-day cycles at the daily quantity  shown in the table.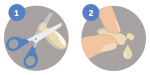 Open the skittle capsule as shown in the drawing (1), and squeeze the contents into the animal's mouth or mix them with a food  ration (2).
Alternatively, the skittle capsules can be swallowed whole.
| | |
| --- | --- |
| Body weight (Kg) | Cps / die |
| 0-10 | 1 |
| 11-20 | 2 |
| 21-30 | 3 |
| >30 | 4 |
PEA (palmitoylethanolamide) is a naturally-occurring substance found in a variety of food sources. In animals, it helps to maintain the physiological balance of several organs and body tissues, including the brain. Senilife® Plus restores the endogenous reserves of PEA through a highly absorbable form (i.e. ultra-micronised, PEA-um). DHA is an important and natural component of neurons and maintain proper fluidity of their membranes. In association with pyridoxine, it optimizes the neurotransmission. Vitamin E has an antioxidant function, i.e. neutralises free radicals produced during brain aging. Senilife® Plus containes a source of Phosphatidylserine, a particularly abundant lecithin in neuronal membranes.
| | |
| --- | --- |
| Functional principle | Quantity |
| PEA-um * | 100 mg/cps |
| DHA | 57 mg/cps |
| Phosphatidylserine | 25 mg/caps |
| Pyridoxine (Vit. B6) | 32 mg/caps |
| Vitamin E | 44 mg/caps |
* ultra-micronised palmitoylethanolamide
COMPOSITION Fish oil, bovine gelatine, glycerine, palmitoylethanolamide (9.7%), vegetable oil (palm), sodium pyrophosphate, yeasts, lupine meal, sodium chloride, sunflower oil, glyceryl monostearate (palmitic acid and stearic acid). ADDITIVES Nutritional additives: vitamin E (42954 mg/kg); vitamin B6 (31038 mg/kg). Technological additives: 1c322 (48497 mg/kg). Colourants: 2a122 (257 mg/kg). ANALYTICAL CONSTITUENTS Crude protein (26%); crude fibre (<1%); crude fat (52%); crude ash (5%); DHA (5.5%); phosphatidylserine (2.4%)