Repy® Gel
Re-epithelialisation promoting gel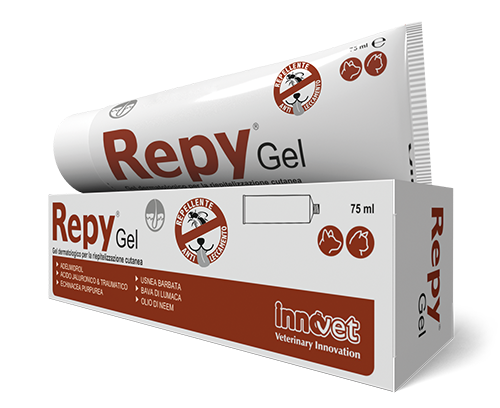 Repy®Gel can be used to improve the functional and aesthetic outcome of skin re-epithelialisation in dogs and cats.
Repy® Gel isn't a veterinary drug. It's a dermatological product for dogs and cats.
Species:

Dog • Cat

Packaging and Prices

Use

Apply a proper amount of product on the affected skin. Repeat two or more times daily.

Properties

Adelmidrol – a congener of palmitoylethanolamide – optimizes re-epithelialisation and improves skin elasticity. It also exerts a soothing and anti-redness effect. Hyaluronic and traumatic acid maintain integrity, hydration and elasticity of the skin. The complex of plants extracts (Echinacea purpurea and Usnea barbata) and snail secretion help to maintain the balance of the skin surface microflora. The addition of Neem Oil gives the product a repellent action against licking and insects (e.g., flies).

Functional principle
Aldemidrol
Hyaluronic acid
Traumatic acid
Echinacea
Usnea barbata
Snail Secretion Filtrate
Neem Oil

Ingredients

Aqua, echinacea purpurea extract, propylene glycol, melia azadirachta seed oil, snail secretion filtrate, algin, adelmidrol (INN), peg-40 hydrogenated castor oil, phenoxyethanol, ethylhexylglycerin, usnic acid, magnesium hyaluronate trans-2-dodecenedioate, sodium hydroxide.
Correlate Products