Retopix® Oto
Soothing, sanitising and ceruminolytic ear drops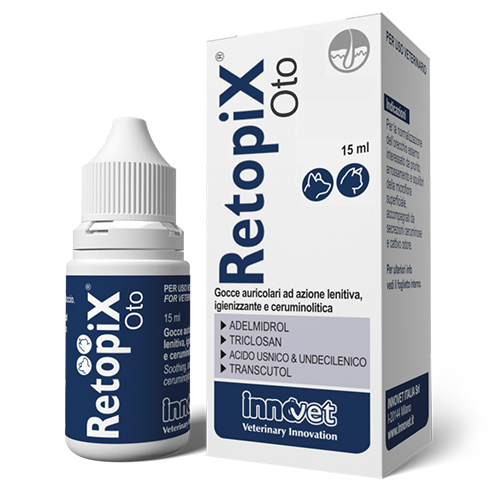 For normalising the external ear affected with redness, ear wax and malodour.
Retopix® Oto isn't a veterinary drug. It's a product for the ear hygiene of dogs and cats.
Species:

Dog • Cat

Packaging and Prices

Use

Apply 4-8 drops 2 times a day outside the external ear canal. Gently massage the base of the ear for a few moments to allow an optimal distribution of the product in the lower portion of the external ear canal. Repeat the application for at least 10 days.

Properties

Adelmidrol – a congener of palmitoylethanolamide – is able to maintain an appropriate dermal function, through a soothing and anti-redness action.  Triclosan, usnic acid and undecylenic acid represent a sanitising complex that helps to maintain the balance of the skin surface microflora of the outer ear. Transcutol is a biocompatible solvent, able to dissolve the wax and facilitate its elimination through the ear canal.

Functional principle
Adelmidrol (2%)
Triclosan
Usnic acid
Undecylenic acid
Transcutol

Ingredients

Ethoxydiglycol, aqua, peg-5 rapeseed sterol, adelmidrol (INN), triclosan, phytosphingosine, undecylenic acid, trans-2-dodecenedioic acid, usnic acid, lactic acid.
Correlate Products